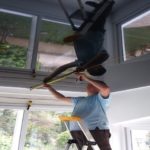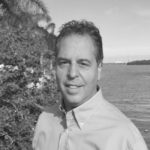 A Stretch Ceiling is a suspended ceiling system consisting of two basic components:
– A membrane
– A profile track
The profile track is installed on the perimeter of your room's wall 3/4   inch below and the suspended lightweight fabric membrane is clipped into the track perimeter.
Stretch ceiling has been on the market worldwide for decades, this wonderful product was created in France many decade ago.
The firsts stretched ceilings was specially to hide an imperfect ceiling, cracks, painting peels, cable or pipe.
After these successful years the stretch ceiling has become a real part of our interior and exterior home decoration, lots of designers now are considering the 5th wall as a real important space.
Batica-Renov USA, use the ORIGINAL method of Stretch Ceiling installation, no copy, that means our membranes are always removable really easily and can be reinstalled the same day and that as many times as necessary for your convenience or your contractor need.